We offer a variety of services, including restoring and enhancing the functional, phonetic and aesthetic aspects of dental patient's mouths.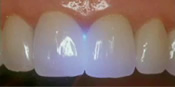 Metal free fillings
Ceramic inlays
Ceramic onlays & crowns
Laminate porcelain veneers
Metal free bridges
Removable bridges
Tooth extraction
Ultrasonic cleaning
Whitening
Correcting bruxism
X-rays
State of the art lab


Metal Free Fillings
We use only 100% metal free fillings, including ceramic composites. Ceramic composites are a tooth colored material that is a combination of glass-like particles and resin. The material bonds strongly to the tooth structure, and the glass-like particles make the material resistant to wear. We can remove any metal amalgams that already exist and replace them with metal free fillings. We are proud to use in our regular practice the Tetric-Ceram HB System (made by Ivoclar-Vivadent Schaan, Liechtestein).

Go to top
Ceramic Inlays
We often encounter situations where a significant part of the biting surface of a tooth has been damaged and weakened. In this case, the material of choice would be a ceramic inlay, which is well tolerated from a biological standpoint and provides the strength and durability needed. We use the Empress Ceramic System (made by Ivoclar-Vivadent in Schaan, Liechtestein).

Go to top
Ceramic Onlays & Crowns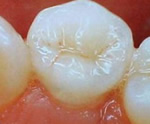 When the defect to be repaired grows to a significant size, the strength of the tooth is compromised. Teeth with very large silver amalgam fillings often develop cracks that extend deep into the tooth structure. These teeth are best restored by a means that completely covers and reinforces the strength of the tooth. A ceramic onlay or full crown accomplishes this objective. We can remove any metal crowns that already exist and replace them with metal free crowns. Depending upon the tooth's location in the mouth, we would choose either the Empress Ceramic System (made by Ivoclar-Vivadent in Schaan, Liechtestein) or the Vita Ceramic System (made by Vita Zahnfabrik in Bad Säckingen, Germany).

Go to top
Laminate Porcelain Veneers
Now you can have that great smile, and in certain situations, without removing any natural tooth structure. Many of you want to have a great, winning smile. Some of you may have gaps between your teeth, or have chipped, discolored, or worn teeth. Laminate porcelain veneers provide a comfortable, great looking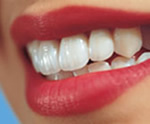 solution to these types of problems.
Laminate porcelain veneers, due to their increased strength, can be made as thin as a contact lens and be placed over your natural teeth. This revolutionary porcelain allows us to save more and reduce less. In other words, we strive to eliminate tooth diminution in favor of tooth augmentation. This means less shots of anesthetics and less drilling. We use the Empress Porcelain System (made by Ivoclar-Vivadent in Schaan, Liechtestein).

Go to top
Metal Free Bridges
In some cases, it is possible to use metal free bridges. There is no metal to hide, because no metal is used. This method provides great strength and aesthetics. In addition, there is no need to drill the whole tooth surface. We can remove any metal core bridge that already exists and replace it with a metal free bridge. We use the Targis-Vectris System (made by Ivoclar-Vivadent in Schaan, Liechtestein).

Go to top
Removable Bridges
If the best solution is a removable bridge, then we would use a unique alloy called Vitallium, which consists of cobalt, chromium, molybdenum, and tungsten. Due to its great strength, this alloy allows us to design thinner and lighter body bridges, giving the patient more comfort in daily use. We use a Vitallium alloy (made by Dentsply-Austenal in York, Pennsylvania).

Go to top

Tooth Extraction
With modern techniques, every tooth can usually be saved. However, if extraction must be done, for example in the case of orthodontics, we would use a deep but gentle local anesthesia in order to perform a painless procedure.

Go to top
Ultrasonic Cleaning
We employ ultrasonic cleaning techniques, which provide a deeper cleaning action, getting rid of any debris, pigment and tartar deposit in less time and with maximum comfort. We use the Cavitron Ultrasonic Cleaning System.

Go to top
Whitening
Whitening creates a more aesthetic appearance by reversing the discoloration of tooth enamel. Determining whether a patient is a candidate for whitening is largely based upon diagnosing the exact cause of the tooth discoloration. Careful clinical examination and X-rays will help determine if whitening is indicated for the strength and condition of the patient's teeth.
Certain factors can contribute to discoloration and include: tetracycline (antibiotic) staining, excessive fluoride, trauma (injury) to the teeth, pulp degeneration, restorative materials (silver, gold), genetic and acquired illnesses, aging, and consumption of staining substances such as coffee, tea, or tobacco products.
Whitening is done simply in the comfort of your own home. After an initial appointment at the dental office to determine if your gums are healthy, ultrasonic cleaning is performed. Then impressions are taken and custom trays are made to fit snugly around your teeth. When you pick up the trays a couple of days later, you would receive training on how to perform the daily procedure.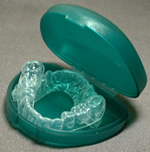 Basically, each night after thoroughly brushing your teeth, you would put a small quantity of a special whitening gel into your custom trays and place them over your teeth. Then you would go to sleep. In the morning you would remove the trays, clean them carefully, and brush your teeth as usual. This procedure is done over a period of two to three weeks until the desired result is achieved. Although this is not a permanent treatment, annual touchups of only a few days at a time can maintain the original whitened result. We use Nite White (made by Discus Dental, Inc. in the U.S.A.), which provides specific gels according to the needs of patients, including those with sensitive teeth.

Go to top
Correcting Bruxism
The term bruxism is defined as "to grind the teeth, a clenching of the teeth, associated with forceful jaw movements, resulting in rubbing, gritting, or grinding together of the teeth, usually during sleep." The most common reason for bruxism is stress. We could say that the simple act of living in a big city is a cause of stress. Yet bruxism is present in almost all people. As years goes by and bruxism continues, the natural enamel of the tooth will have wearing spots and fractures of the incisal edge and the neck (the part of the tooth close to the gum). In addition, the person will likely experience dizziness, ear buzzing and crackling of the temporal mandibular joint (TMJ). As a result, fissures on the enamel are formed, and the bone becomes weaker. The choice for treatment is to create a night guard, which is made of a soft silicon. The patient would need to sleep with the night guard in place. Instead of two hard surfaces grinding against each other, there would be a soft cushion between the upper and lower teeth, significantly decreasing the biting pressure.

Go to top
X-Rays
The only way to do an accurate diagnostic and treatment plan for any patient is by taking X-rays and performing a highly skilled interpretation of it. We will provide a lead vest for your protection.

Go to top
State of the Art Lab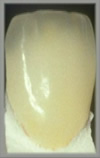 It is an honor and privilege to work within the alliance of internationally known Thomas W. Graber and his highly skilled staff at Estudio de Porcelana Suizo. They are located in Cuernavaca, Morelos.
EPS is the leading dental lab in Mexico, with first-class equipment, computerized ceramic ovens and very artistic, talented people. They provide excellent accuracy and a natural look in every tooth and structure they create, responding with legendary Swiss punctuality.